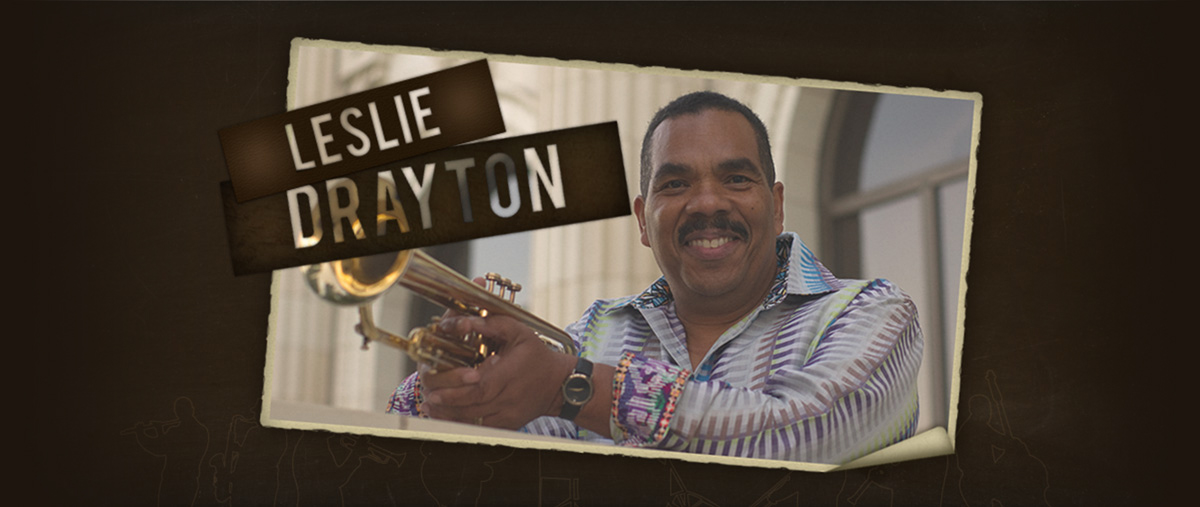 About
Leslie's fascination with music began as a toddler when his mother discovered that he would pick out melodies on a neighbor's piano. He began formal musical training at around 5 or 6 years of age by studying piano, clarinet and bongo drums. At age 11, jazz great, Benny Carter, a family friend gave him a trumpet. Leslie decided at age 15 that he wanted to be a professional musician when he joined a local youth band. Through his association with the youth band he was taught arranging, composing and music preparation skills. Upon graduating from Los Angeles High School, he attended L. A. Valley College and later transferred to California State University at Los Angeles where he earned a B. A. in Music Education. During his college years, Leslie began his professional music career by playing and writing for local R & B bands, big bands, and was also a seminal member of the group, 'Earth, Wind, and Fire'. During those early years, Leslie began to formulate his own compositional ideas and began composing and rehearsing his own musical aggregations.
After graduating from college in 1971, he continued his work as a freelance musician. In 1972 he formed a big band with Melba Liston that led to his meeting Marvin Gaye. Leslie worked with Marvin Gaye as his musical director and conductor from 1974-1976. In 1977, the 'Leslie Drayton Orchestra' was formed and received critical as well as popular acclaim. The orchestra evolved into a smaller group known as 'Leslie Drayton and Fun' in 1984. This band featured music that is much more contemporary than traditional jazz music, but incorporated musical elements that have been explored throughout the entire history of jazz.
Leslie relocated to Denver, Colorado in 1989 and remained there until 1996. During his years in Colorado, he continued his freelance activities and also earned a Masters of Arts in Composition from the University of Denver in 1991. While in Denver he began Water Sign Music Productions, a company that publishes many of his compositions. It was also in Denver that he met his lovely wife, Kathy.
Leslie continued his freelance performing and composing activities in the Los Angeles area upon his return in 1996 along with mentoring young musicians through programs sponsored by the L. A. Jazz Society, The Thelonious Monk Institute of Jazz, and the Grammy Foundation. He is a former member of the Board of Directors for the Jazz Bakery in Los Angeles. During the years of 2004-2010, he taught a popular course at Santa Monica College entitled, 'Jazz in American Culture'. In the fall of 2010, Leslie began a six-year stint as Associate Professor of Music at Ventura College where he led the jazz band and taught a variety of music history, music appreciation, and theory courses.
In mid-year of 2016, Leslie and his wife relocated to the Houston, TX area where he looks forward to continued music activities and the development of his new band, 'Few Regrets'. He has released 12 recordings as leader.
Selected Discography
Earth, Wind and Fire – Warner Bros. / Trumpeter/Arranger
Earth, Wind and Fire – 1971
The Need of Love – 1972
Another Time (compilation) – 1974
New Birth – RCA / String Arranger
"Wildflower" – 1973
"It's Been A Long Time" – 1973
Jr. Walker – Soul/Motown / Arranger
Sax Appeal – 1974
"Dancin' Like They Do On Soul Train" from Nothin' But Soul comp.
Nancy Wilson – Capitol
Music On My Mind – 1978
Marvin Gaye – Tamla/Motown / Musical Director/Conductor/Arranger
Marvin Gaye Live! – 1974
Marvin Gaye Live at the London Palladium – 1977
Sylvester – Honey/Fantasy / Musical Director/Conductor/Arranger
Step II – 1978
Living Proof – 1979
Sell My Soul – 1980
Two Tons O' Fun – Honey/Fantasy / Arranger
Two Tons O' Fun – 1980
The Leslie Drayton Orchestra – Esoteric
Our Music is Your Music – 1980
Turning A Corner – 1981
Close Pursuit – 1983
The Leslie Drayton Orchestra f/ Barbara Morrison – Esoteric
Love Is A Four-Letter Word – 1984
Leslie Drayton & Fun – Esoteric/Optimism
What It Is Is What It Is – 1986
Innuendos – 1987
Leslie Drayton
Midnight Rendezvous (Island – 1988) unreleased, but available on Spotify
Unfinished Business (Esoteric/Optimism – 1989)
Leslie Drayton – New Perspective Jazz Ltd.
Until Further Notice – 1994
A Jazz House Party – 1995
Urbanesque – 1998
By Request – 1999
Free And Easy -2014